White Unicorn Piñata, Pull String
White Unicorn Piñata, Pull String
Online Only
White Unicorn Piñata, Pull String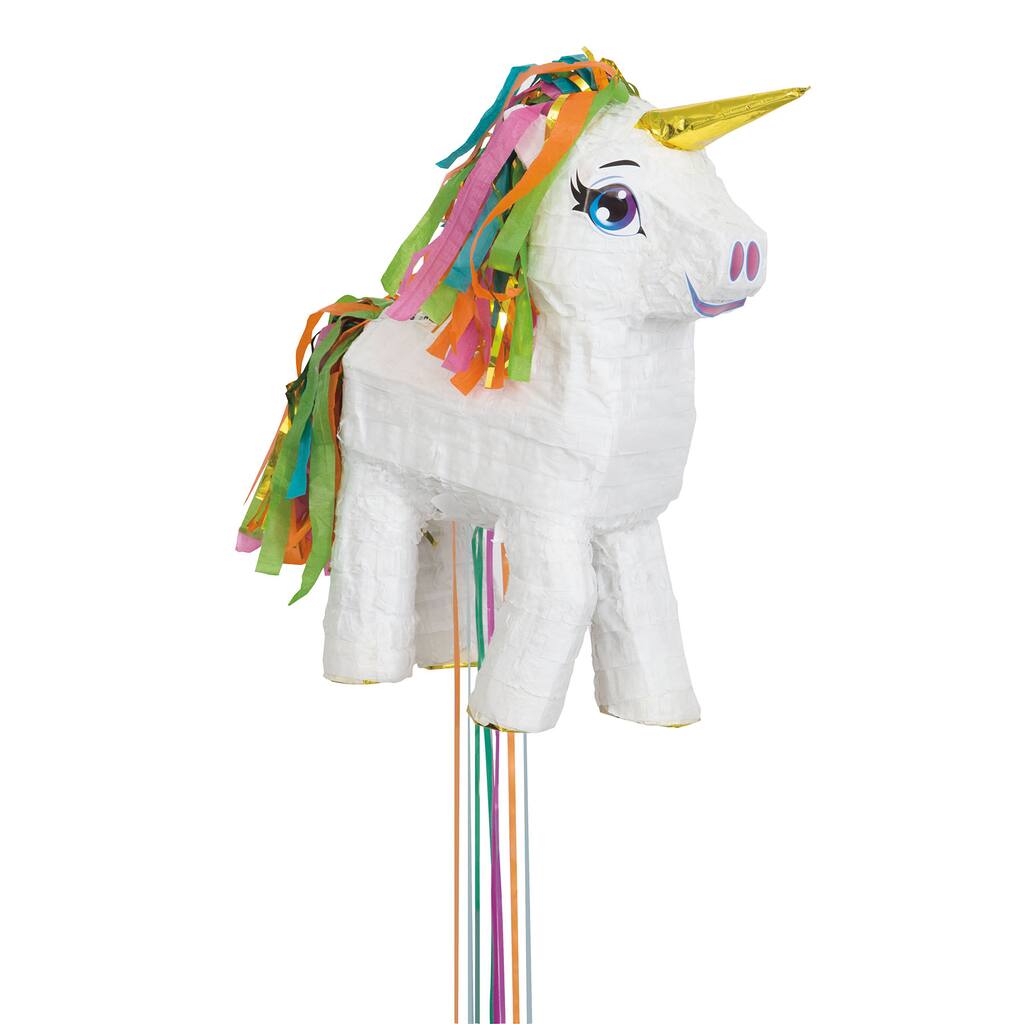 Details
https://www.michaels.com/white-unicorn-pull-string-pinata/D033778S.html
---
Your partygoers will go gaga for this cute and colorful Unicorn Piñata. You can't throw your girl a rainbow birthday party without any unicorn party supplies, so bring this pretty pony to your big bash. This little pull-string piñata makes a sweet party game for kids, and doubles as a unicorn party decoration when not in use. First, fill up the piñata with no more than two pounds of candy and party favors (overfilling may cause breakage), then hang it using the built-in plastic loop on top. In a safe and easy-to-play twist on the traditional piñata rules, players take turns pulling each of the 12 strings until one randomly opens the hidden trap door and releases the loot you've stashed inside. Make sure kids firmly yank the pull-strings in a downward motion so it rips off completely. Best of all, since there's no whacks with a piñata stick, this unicorn piñata stays intact so your daughter can keep it afterwards. You can make your celebration even more magical with our unicorn birthday party supplies.

Details:

• 1 White Unicorn Piñata with 12 Pull-Strings
• Unicorn Pñata measures 17" x 15.5" x 6.5"
• Fun, safe, and easy-to-play alternative to traditional piñata game
• Fill with no more than 2lb of treats (sold separately)
• Players take turns ripping off strings until one releases the loot
• Ideal for a kids birthday party, princess party, or unicorn theme party
• Combine with more unicorn party supplies
Your partygoers will go gaga for this cute and colorful Unicorn Piñata. You can't throw your girl a rainbow birthday party without any unicorn party supplies, so bring this pretty pony to your big bash. This little pull-string piñata makes a sweet party game for kids, and doubles as a unicorn party decoration when not in use. First, fill up the piñata with no more than two pounds of candy and party favors (overfilling may cause breakage), then hang it using the built-in plastic loop on top. In a safe and easy-to-play twist on the traditional piñata rules, players take turns pulling each of the 12 strings until one randomly opens the hidden trap door and releases the loot you've stashed inside. Make sure kids firmly yank the pull-strings in a downward motion so it rips off completely. Best of all, since there's no whacks with a piñata stick, this unicorn piñata stays intact so your daughter can keep it afterwards. You can make your celebration even more magical with our unicorn birthday party supplies.

Details:

• 1 White Unicorn Piñata with 12 Pull-Strings
• Unicorn Pñata measures 17" x 15.5" x 6.5"
• Fun, safe, and easy-to-play alternative to traditional piñata game
• Fill with no more than 2lb of treats (sold separately)
• Players take turns ripping off strings until one releases the loot
• Ideal for a kids birthday party, princess party, or unicorn theme party
• Combine with more unicorn party supplies
jump
---
Your partygoers will go gaga for this cute and colorful Unicorn Piñata. You can't throw your girl a rainbow birthday party without any unicorn party supplies, so bring this pretty pony to your big bash. This little pull-string piñata makes a sweet party game for kids, and doubles as a unicorn party decoration when not in use. First, fill up the piñata with no more than two pounds of candy and party favors (overfilling may cause breakage), then hang it using the built-in plastic loop on top. In a safe and easy-to-play twist on the traditional piñata rules, players take turns pulling each of the 12 strings until one randomly opens the hidden trap door and releases the loot you've stashed inside. Make sure kids firmly yank the pull-strings in a downward motion so it rips off completely. Best of all, since there's no whacks with a piñata stick, this unicorn piñata stays intact so your daughter can keep it afterwards. You can make your celebration even more magical with our unicorn birthday party supplies.

Details:

• 1 White Unicorn Piñata with 12 Pull-Strings
• Unicorn Pñata measures 17" x 15.5" x 6.5"
• Fun, safe, and easy-to-play alternative to traditional piñata game
• Fill with no more than 2lb of treats (sold separately)
• Players take turns ripping off strings until one releases the loot
• Ideal for a kids birthday party, princess party, or unicorn theme party
• Combine with more unicorn party supplies
Your partygoers will go gaga for this cute and colorful Unicorn Piñata. You can't throw your girl a rainbow birthday party without any unicorn party supplies, so bring this pretty pony to your big bash. This little pull-string piñata makes a sweet party game for kids, and doubles as a unicorn party decoration when not in use. First, fill up the piñata with no more than two pounds of candy and party favors (overfilling may cause breakage), then hang it using the built-in plastic loop on top. In a safe and easy-to-play twist on the traditional piñata rules, players take turns pulling each of the 12 strings until one randomly opens the hidden trap door and releases the loot you've stashed inside. Make sure kids firmly yank the pull-strings in a downward motion so it rips off completely. Best of all, since there's no whacks with a piñata stick, this unicorn piñata stays intact so your daughter can keep it afterwards. You can make your celebration even more magical with our unicorn birthday party supplies.

Details:

• 1 White Unicorn Piñata with 12 Pull-Strings
• Unicorn Pñata measures 17" x 15.5" x 6.5"
• Fun, safe, and easy-to-play alternative to traditional piñata game
• Fill with no more than 2lb of treats (sold separately)
• Players take turns ripping off strings until one releases the loot
• Ideal for a kids birthday party, princess party, or unicorn theme party
• Combine with more unicorn party supplies
Shipping & Returns
jump
---
Shipping & Returns
Shipping
Most products may be shipped via standard ground (delivered in 3-5 business days), second day or next day. Orders placed by 11:00 AM Central Time using second day or next day will ship the same day. View Full Shipping Policy and Pricing ›
Returns
If your Michaels.com purchase does not meet your satisfaction, you may return it within two months (60 days) of purchase. To return an item (excluding sample products), the item must be new, unused and in its original packaging. You may return the item to a Michaels store or by mail. View Full Return Policy ›
From the Manufacturer
jump
Customer Reviews
White Unicorn Piñata, Pull String
is rated out of
5
by
2
.
Rated

5

out of

5
by
Isabella_Madelyn Mom
from
Super cute and my daughter loved it!
This is very cute and my daughter absolutely loved it. I used it for my daughter's 4th birthday party and have purchased another one for my other daughters 3rd birthday party coming up. It was very sturdy and did not open up so after each child got a chance to hit it we let the kids pull the strings. My 4 year old still has it sitting up on her dresser she liked it so much.
Date published: 2018-10-12
Rated

1

out of

5
by
chelseab
from
unicorn horn was broke
the horn was broken when i opened the box. not very happy with this product.
Date published: 2018-10-10