Tie Dye Soap Making Kit by ArtMinds™
Tie Dye Soap Making Kit by ArtMinds™
Tie Dye Soap Making Kit by ArtMinds™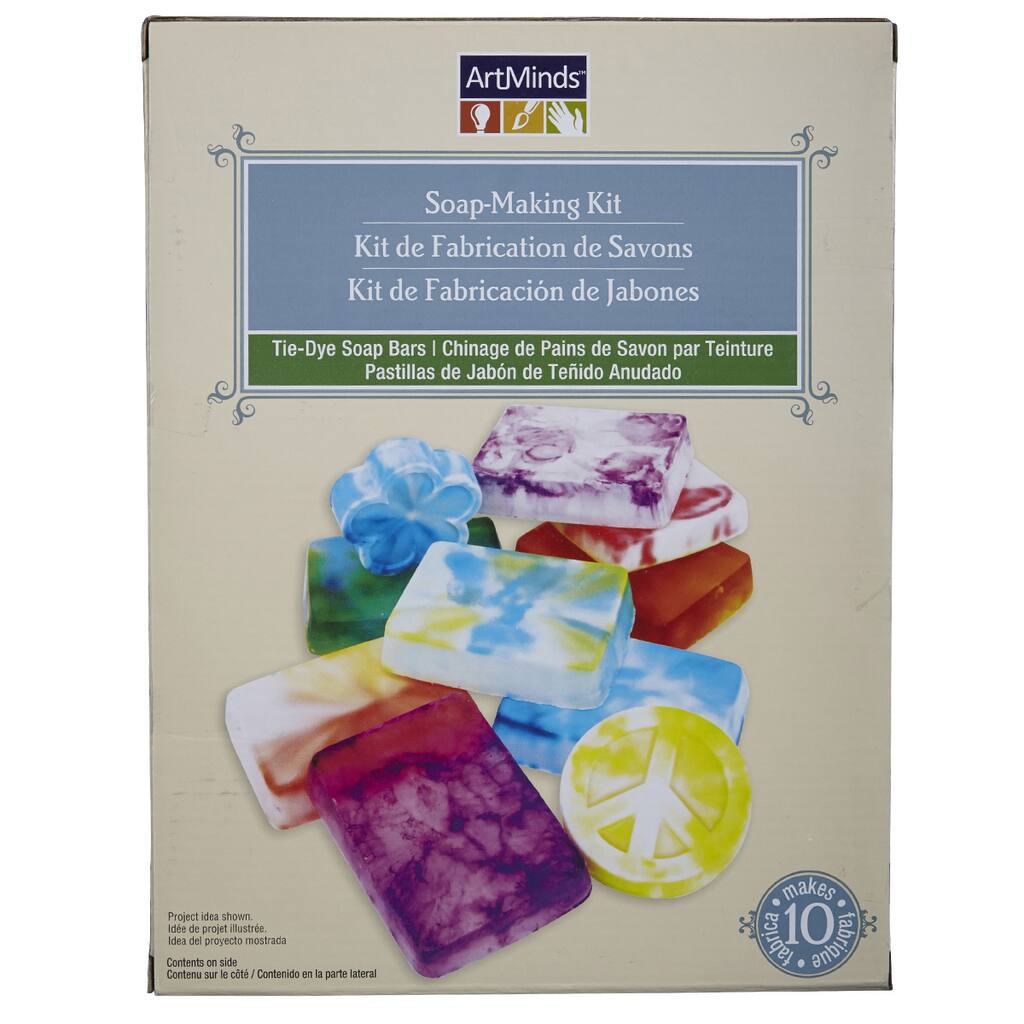 Details
https://www.michaels.com/tie-dye-ssoap-making-kit-artminds/10210251.html
Shipping & Returns
jump
---
Shipping & Returns
Shipping
Most products may be shipped via standard ground (delivered in 5-7 business days), second day or next day. Orders placed by noon (12:00 PM) Central Time using second day or next day will ship the same day. View Full Shipping Policy and Pricing ›
Returns
If your Michaels.com purchase does not meet your satisfaction, you may return it within six months (180 days) of purchase. To return an item (excluding sample products), the item must be new, unused and in its original packaging. You may return the item to a Michaels store or by mail. View Full Return Policy ›
jump
Customer Reviews
Tie Dye Soap Making Kit by ArtMinds™
is rated out of
5
by
11
.
Rated

4

out of

5
by
chaser
from
Great starter kit
first time making soap, was easy to use. Directions simple
Date published: 2018-07-16
Rated

3

out of

5
by
Pounding headache glasses
from
If you like aardvarks, then stay away from this!
House is still creaking after the initial storage dilemmna. Not sure what to do about all the additional signage, and the Uber has been lost for several days.
Date published: 2017-08-29
Rated

4

out of

5
by
Mmathews
from
Product was complete
Loved the varieties available. Lots of fun to do on a afternoon.
Date published: 2017-07-09
Rated

5

out of

5
by
Cheychey97
from
Awesome soap
I love making soap, I use to make it with my grandma. She stop making it, and I picked it right back up. See i made tie dye mango soap I thought it look awesome. If I won this i would get more soap stuff.
Date published: 2017-05-01
Rated

5

out of

5
by
Andrea15
from
Great for teenagers!
My daughter has enjoyed making soaps so much. I was not expecting that at all.
Date published: 2017-04-24
Rated

3

out of

5
by
Flores9202
from
It was ok
I bought it thinking it would be a nice activity to do with my son. When I opened it I realized there was no fragrance and the soap had little funky smell to it. So I went back to micheals buy some fragrance hoping to cover up smell. Overall it was a nice little project with the kiddo. my son loved it, so that's all that matters
Date published: 2017-01-07
Rated

4

out of

5
by
zoey1903
from
This product is great to make holiday soaps.
This soap making kit is very good to make holiday soaps like to make fall soaps, winter soaps, summer soaps, and/or spring soaps. I loved it. I also hope my friends who bought it liked it too. I recommended this item to about 5 of my friends. Thank-you for this product.
Date published: 2015-12-21
Rated

1

out of

5
by
Buffy
from
First try is a fail
The other reviewers were right about the smell. It's awful. No matter what the soap looked like, I'd never be able to use it. But we haven't even gotten the appearance to be what was advertised. The melted soap dries VERY FAST once it's poured into the molds. By the time we got the bottles of color open & dripped them in, the soap was already hard again. When we tried to stir the colors in, they just blended into a kind of brownish goo on top of the hardened soap. Lovely. :P I think I'm going to return it. $20 is too much to pay to throw everything away.
Date published: 2015-06-13